| | |
| --- | --- |
| 'PD | Gross weighing system featuring low equipment height, reduced footprint, compact design, and economical cost. |
| 'QD | The product supply system can be chosen according to the properties of the product. |
| 'RD | Applicable for a wide range of products, from free-flowing materials to fine powder. |
| 'SD | Chance of low bagged product weight due to adhesion or air dispersion is reduced since the product is discharged directly into the bag. |
@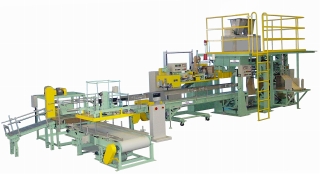 œPhoto shows 3CM-3G.
Maintenance stage above the packaging machine is optional.
Provided with KS-12, weight checker, VD-1, SU-2 and SB-R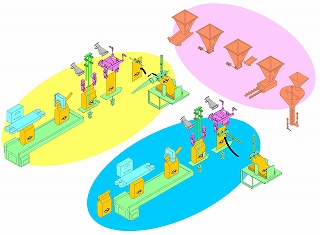 Please see the illustration detail.

Specifications
Model

3CM-3G/3CM-5G

Capacity ¦1
300/250 bags/hr max.
Set weight
20 - 30 kg/bags
Bag type

Paper
Cloth bags
PE bags

Bag size




¦'Q

Width of empty bag
380 to 460 mm
Length of empty bag
750 to 950 mm
Air consumption
500 NL/min
Power requirements
4.3/3.2 kW
weight
2.5/2.0 t
¦'P

Varies with the product and operating environments.
¦'Q

Contact us for applications involving common use of different bags, use of special bags, and bag dimensions and set weights outside the above range.
| | |
| --- | --- |
| Load cell (3 places) | Weigh mechanism |
Gross weighing uses a 3-point load cell hanging system. Functions include automatic correction of drop height, automatic zero adjust (tare erase), estimated discharge, discharge correction, memory and integration, and digital display.
'R'b'l|'R'f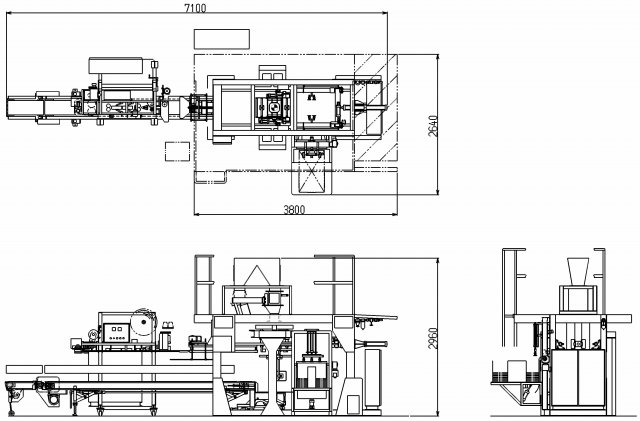 –The product supply unit comprises an electromagnetic feeder and a cut gate.


'R'b'l|'T'f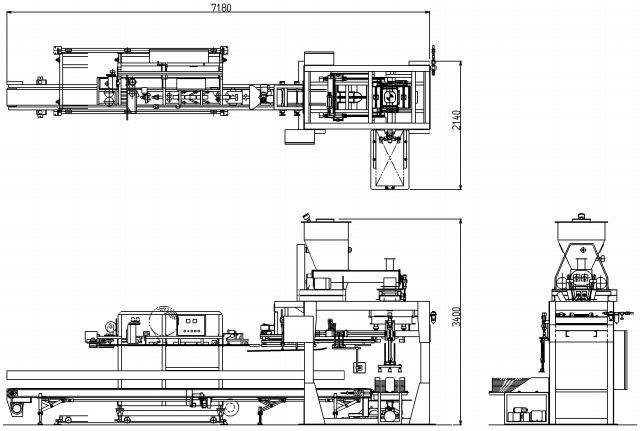 –The product supply unit is the screw feeder type.


œDimensions in the drawing vary with specifications.


œSpecifications may be changed without prior notice.
œThere may be differences between shown picture and specifications of each model.
œReproduction without permission is prohibited.



@


@
---
---
Copyright (C) NLI (NEWLONG INDUSTRIAL CO.,LTD.) All Rights Reserved.